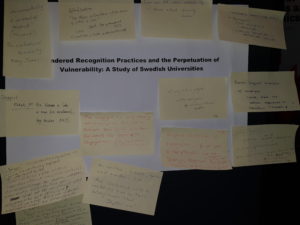 Presented our paper on Gendered recognition practices and perpetuation of vulnerability at the 10th Biennial International Interdisciplinary Conference on Gender, Work and Organisation in Sydney, Australia. With co-authors Charlotte Holgersson, Marianne Ekman Rising, Monica Lindgren and Anna Wahl, we suggest that
– recognition practices are an important yet under-researched aspect of academic
identity construction processes
– recognition practices are gendered, i.e. we perform gender in our ways of conferring and receiving recognition, constructing what recognition may mean in different local/cultural contexts, constructing when it is to be conferred/received or not, and constructing how it is appropriately played out how in social interaction.
– recognition practices tend to sustain vulnerability among academics, but in different ways for men and women.